In the month of October 2020, CHAdeMO has achieved the one million mark with EVs and PHEVs equipped with a CHAdeMO inlet sold to date in the world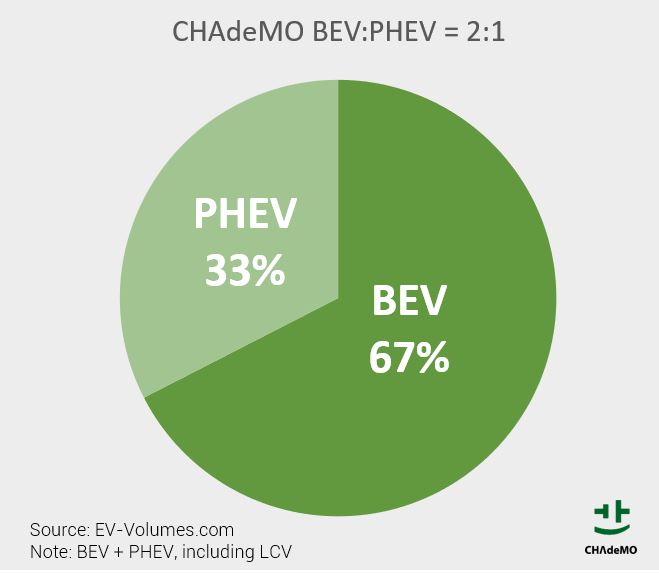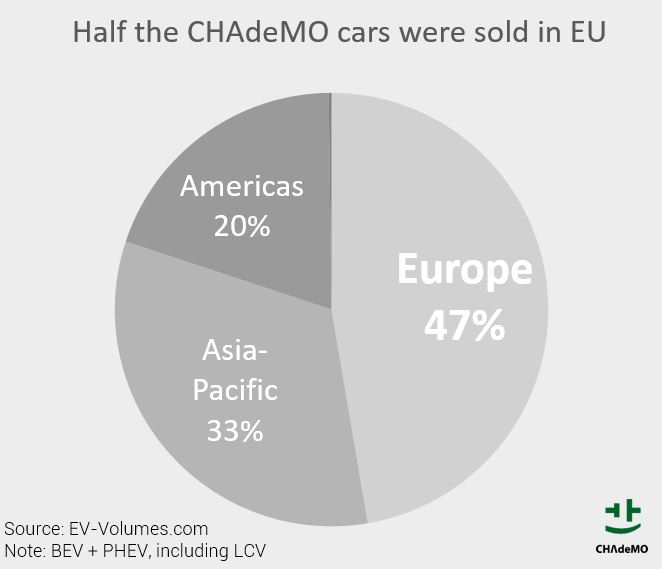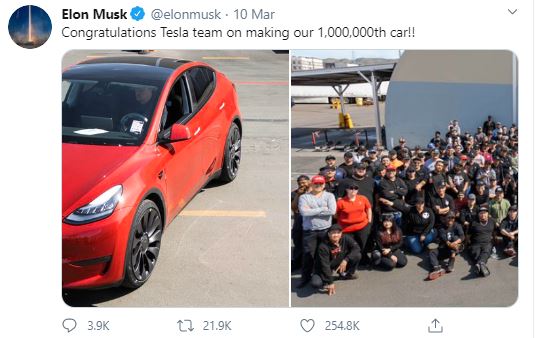 Mr Musk's tweet (March 2020)
CHAdeMO has achieved yet another major milestone this month: a million CHAdeMO plug-in vehicles sold in the world, according to the provisional numbers provided by our member EV-Volumes.com. Starting with the Mitsubishi i-MiEV in 2009, boosted by the Nissan Leaf (which celebrated 500,000 vehicles produced in September this year) and supported by some 20 automakers who have produced various CHAdeMO vehicles, the one millionth CHAdeMO EV was sold sometime in the world in the month of October 2020, making CHAdeMO vehicles the 2nd DC fast charging inlet after the Chinese GB/T to achieve this number.
Looking at the breakdown of the CHAdeMO vehicles, there are about twice as many BEVs (pure battery electric vehicles) as PHEVs (plug-in hybrid EVs).
In terms of the regional split, one out of every two CHAdeMO vehicles was sold in Europe, followed by Asia-Pacific and the Americas.
A fantastic EV automaker and a long-standing CHAdeMO member, Tesla has indeed achieved its 1 million vehicles produced already in March this year (as seen in the tweet from Mr Musk) 12 years after its first Roadster in 2008, as per the Statista chart.  Our sincere respect and congratulations to Tesla!
If you are wondering why Tesla does not appear to have achieved the 1 million vehicle mark on the above chart, because this breaks down all the EVs sold to date by the vehicle-side charging inlet type (the 'socket' for fast charging plugs on the car side). As Tesla produces its vehicles with a variety of charging inlet types depending on the region – for example, their North American inlet differs from those for the Chinese or European markets – , Tesla's original (North America version) super charger inlet has yet to reach that number according to the data provided by EV-Volumes.com, although it's very, very close!
CCS also offers different plug/inlet types for EU (CCS2) and US (CCS1), but we unfortunately do not have the breakdown. What we did for the graph was to assume those fast-chargeable "CCS" vehicles sold in the Americas to use CCS1, and those sold in Europe and Africa & Middle East to be equipped with CCS2. For the 80k+ vehicles sold in Asia & Pacific, we prorated, but if someone has exact figures we'd be happy to update our data.
CHAdeMO inlet shape remains the same wherever you go, which makes transcontinental moves easier for those who are up for it!
In any case, we are sincerely thankful to all of you who have trusted CHAdeMO for its safe, affordable and interoperable charging. Every CHAdeMO vehicle as well as each one of over 30+ CHAdeMO chargers in some 90 countries in the world is of extreme importance for us. As CHAdeMO chargers can serve Tesla vehicles (not the regional inlet ones) via their CHAdeMO adapter, our chargers can serve over 2 million plug-ins in the world!
We have made a great deal of effort to make sure the vehicles and chargers are backward compatible at every new version of the charging protocol, in addition of course to ensuring safety and reliability for users, which is our first priority. We will continue to strive for more innovation and evolution of the charging standard, all the while ensuring our backward (and forward) compatibility in order never to waste these precious CHAdeMO assets.
—–
For all enquiries, please contact info (at) chademo.eu or +33 6 9512 2162