The 2nd edition of the CHAdeMO V2G webinar took place on 30 June with over over 100 attendees for the first-hand experience of the real-world V2G projects
Key takeaways from the webinar:
By now, the environmental and financial benefits of V2G may be fairly well known and the technical demonstration phase has already been surmounted. Participants in recent demonstration projects are taking a deep dive into the data collected and analysing the viability of the business case for V2G, including different revenue options as well as cost savings for grid operators.
For  the 2nd edition of CHAdeMO's V2G webinar, CHAdeMO invited Mr Alfie Ireland, OVO energy, and Mr Greg Payne, CENEX, to speak about the Sciurus project, the world's largest residential V2G project from the UK, and Ms Laura Jones, Australian National University of Engineering and Computer Science to present the on-going Australian Realising Electric Vehicles-to-grid Services (REVS) project aiming at demonstrating how commercially available EVs and chargers can contribute to energy stability by transferring power back and forth into the grid as required.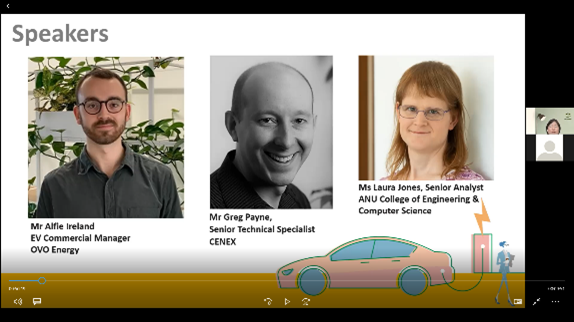 Mr Ireland shared some key challenges identified throughout the Sciurus project such as difficulties in installing V2G devices, reducing the hardware cost to an acceptable level (around 2 300 euros) and finding a right commercial model that works. He also pointed out that more development and more cost down are needed to bring V2G to the mass market.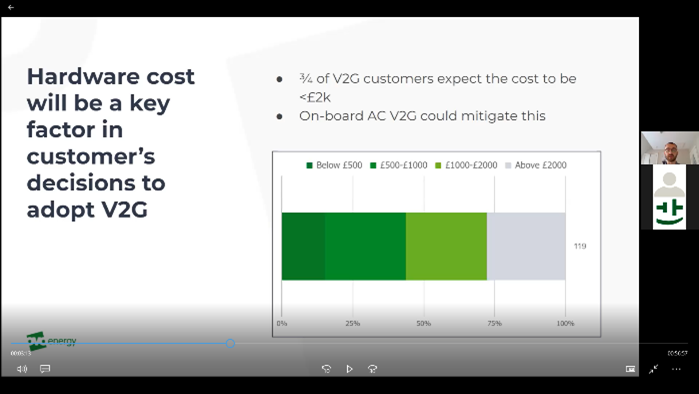 Mr Payne, from Cenex shared a variety of data collected from each V2G unit used during the Sciurus project. He shared the assessment results of how the financial returns from different types of V2G services stacked up, demonstrating the difference of up to 700 EUR once a full line-up of services is made available. He explained that the difference of revenue starts to build-up as one starts participating in the grid services but added that 2020 was not a typical year in terms of EV usage, as Covid affected the data collected in the trial by increasing the plug-in availability of the EVs during lockdowns.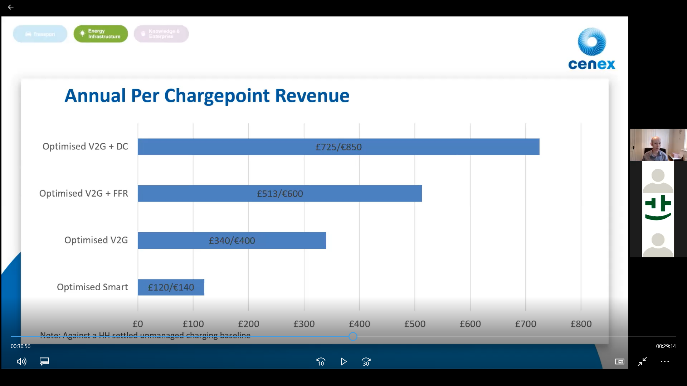 Ms Jones observed that according to her model, only 50-60% of the total capacity of vehicles are available when the prices are high (during which time we hope they plug in) and that vehicle usage and certainty (for its availability) are two factors that impact how much service you can provide to the market . She also indicated that small and affordable EVs designed for urban driving or short journeys could be good options for the V2G purposes. The Australian government supported REVS project is on-going.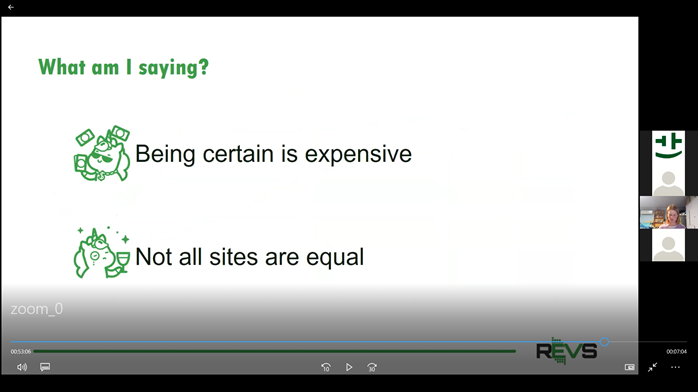 Attended by over 100 participants, we are certain that the 2nd edition of CHAdeMO's V2G webinar series provided practical tips and hints for our industrial partners to design and deploy viable V2G business models.
The next edition of CHAdeMO V2G webinar is planned for 30 September. Stay tuned!