A new addition to Lyon's eco-district, La Confluence: 100% CHAdeMO-compatible electric car sharing service, 100% powered by renewable energy!
As part of the city's 50-milion Euro "Lyon Smart Community" project led jointly by Grand Lyon and NEDO (New Energy and Industrial Technology Development Organization) from Japan, this new car sharing system named SunMoov' has started its operations on 15th October, with 30 CHAdeMO-chargeable EVs (Peugeot i-On, Citroen C-ZERO, and Mitsubishi iMiEV) and 6 charging stations, that are fully powered by renewable energy.
The inauguration ceremony was held on 14th October, with the attendance of Gerard Collomb, Senator, Mayor of Lyon and President of Grand Lyon and Kazuo Furukawa, President of NEDO, both of whom expressed their high expectations on this zero emission transportation system made possible through French-Japanese collaboration.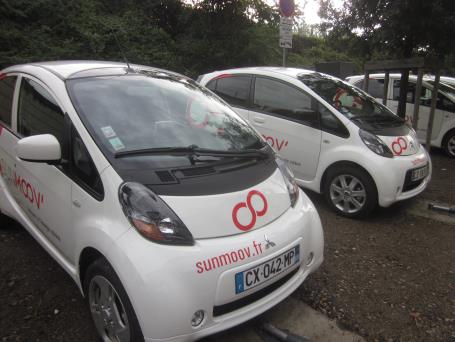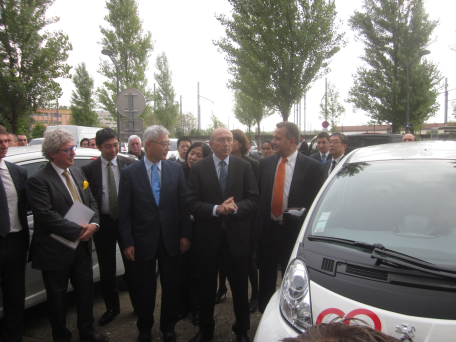 Similar to Citroen's Multicity project (about which you can read in our article from earlier this year), with pre-registration online at www.sunmoov.fr, drivers will obtain an access card, which will serve as the key to the vehicle. Users can book EVs on the internet up until a few minutes before the departure time, and up you go, with a modest fee of 5€ per half an hour without subscription, or 4€ per half an hour with a 12€ monthly subscription.
Three of the six charge stations are equipped with a CHAdeMO fast charger. This is the first car sharing project in France that incorporates fast charging points on public roadways, according to Transdev, who operates SunMoov' through its subsidiary Proxiway.
The chargers will be fully powered by renewable energy provided locally by Compagnie Nationale du Rhône. As of now, chargers will use hydro-power, but as of Q4, 2014, photovoltaic panels displayed on top of buildings in the district will be the main source of electricity for SunMoov'.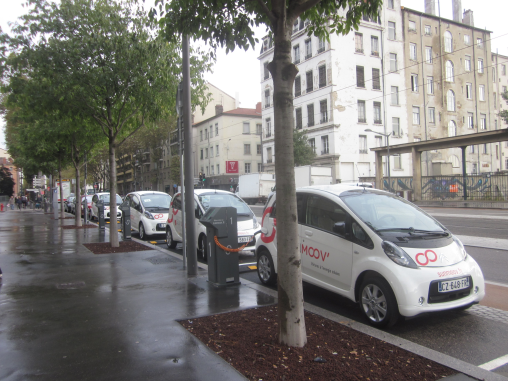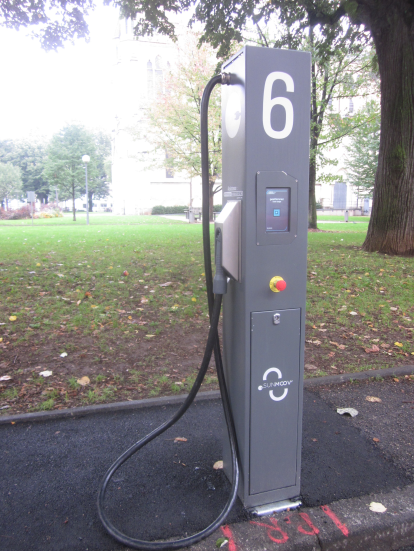 (Photos: SunMoov' EVs all lined up, ready to go on 14 October; CHAdeMO charger at a charge station)