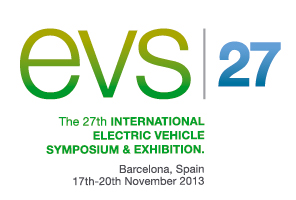 EVS, the longest running and the most established EV congress in the world, is coming to Europe this year, and more precisely, to Barcelona. Over three days of November the congress attendees will be debating the current and future stakes of e-mobility and will also have at their disposition an EV-themed exhibition presenting latest trends coming from e-mobility market leaders.
Cooperation for e-mobility being a motto of CHAdeMO, we will host a joint booth at EVS27 with 10 of our members: DBT, Efacec, Endesa, EVTEC, EVTRONIC, IES, IKS, Mitsubishi, Nichicon and Yazaki. The 56 sqm stand along the main alley will be showcasing the most recent innovations from the world of CHAdeMO DC Fast Charging: regular CHAdeMO chargers, multi-standard fast chargers, portable chargers, V2H and V2G chargers, a 50kWh charger with integrated batteries, a new type of CHAdeMO connector, and last but not least, the first in the world plug-in-hybrid SUV, Mitsubishi Outlander PHEV. A coffee served directly from one of the chargers will give an opportunity to experience 'live' how fast a CHAdeMO charge is: leaving just about enough time to drink a cup of coffee.
On top of the most recent CHAdeMO-related innovations, our booth at EVS27 will also be an opportunity to admire the latest map of CHAdeMO charger deployment in Europe (already +900 chargers) and learn about the current CHAdeMO-related projects. Given the rate at which CHAdeMO chargers have been growing, perhaps at EVS27 we will be celebrating the 1000 mark? Representatives of CHAdeMO as well as its partner companies together with their products will be open to questions and comments at the stand C306 (tip – look for us along the main alley, between Renault and BMW booths!). We are looking forward to seeing you at our booth!
If you are attending the EVS congress, do not miss the CHAdeMO presentation at the Project Dissemination part of EVS27 Congress. Our presentation will be delivered by Tomoko Blech of CHAdeMO Europe and Senan McGrath from ESB on 20th November at 9:00 as part of Session 7F.
[sc_clients set="dbt, efacec, endesa, evtec, evtronic, ies, iks, misubishi, nichicon, yazaki"]