On December 3rd, the Open Charge Alliance and CHAdeMO Association has released the white paper, which is a practical guideline aiming at facilitating the industry implementation of the OCPP-CHAdeMO combination.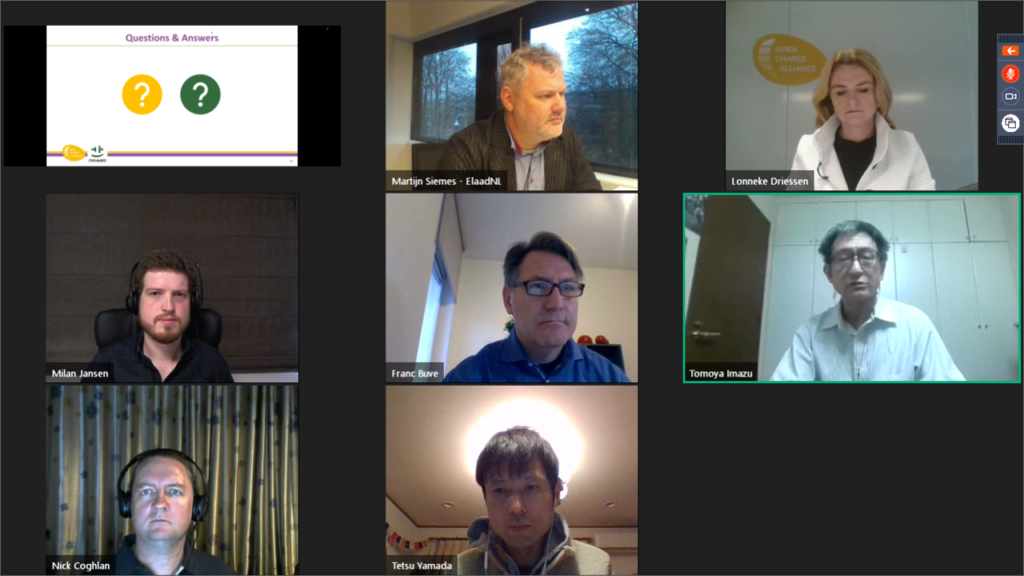 OCPP-CHAdeMO Webinar held on 3 December 2020
Willing to contribute to the acceleration of EV uptake around the world, CHAdeMO, in collaboration with the OCA (Open Charge Alliance), has released on 3 December 2020 a white paper entitled "Using OCPP with CHAdeMO" to make the the implementation of OCPP with CHAdeMO even easier. The white paper describes the interaction between CHAdeMO and OCPP on a charging station and how information from the CHAdeMO protocol can be communicated to a charging station management system via OCPP.
The white paper is freely downloadable: "Using OCPP with CHAdeMO Final.pdf"
This is the result of a joint working group by CHAdeMO and OCA formed in May 2020 and focused on the implementations of both OCPP1.6 and OCPP2.0.1 in combination with CHAdeMO 1.1 (including V2X), and CHAdeMO 2.0 for smart charging. The whitepaper includes a translation table for the terminology used in both protocols and a set of diagrams that show the exchange of messages between electric vehicle and charging station on the one hand (CHAdeMO) and charging station and management system on the other (OCPP).
"Ensuring compatibility of the OCPP with CHAdeMO's V2G function is our next work item",  said Mr Imazu, the head of CHAdeMO Technical Committee, during the webinar held on 3 December, "we welcome collaborative work with all partners who believe in improving the usability of EV charging infrastructure." (watch the video and/or download the OCPP-CHAdeMO webinar presentation)
CHAdeMO Association, with the aim to contributing to the reduction of GHG emissions from the transport sector, defines its mission as "bringing safe, affordable and interoperable charging to EV drivers."
If you have not subscribed to the CHAdeMO Newsletter yet, please sign up from the top page or contact us.