CHAdeMO Association successfully completed the first charging tests and demonstration in Japan for the next-generation ultra high-power charging protocol being developed to harmonise China's GB/T and CHAdeMO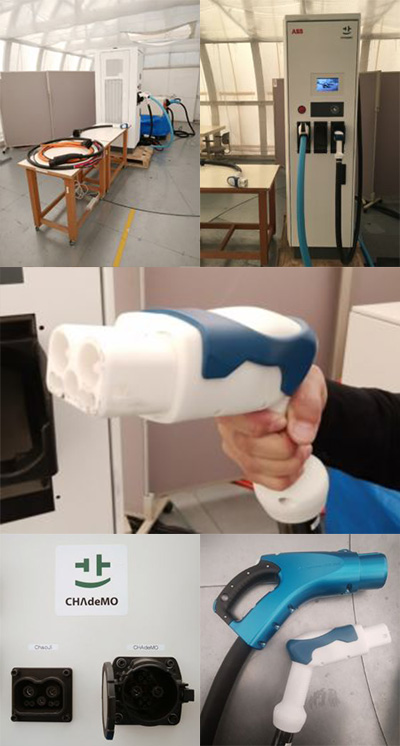 On February 6th 2020, CHAdeMO Association announced the successful completion of the first charging demonstration in Japan of the next-generation ultra high power charging protocol (project name ChaoJi), currently being developed as a joint effort with China.
Various companies from Asia and Europe participated in this demo event held at the UL Japan Kashima EMC testing laboratory in Chiba prefecture, Japan and witnessed tests of the CHAdeMO 3.0 communication protocol using the newly designed liquid cooled connector (maximum current: 600A*) and also confirmed backward compatibility with the current CHAdeMO protocol via the brand new inlet adapter.
During the event Takafumi ANEGAWA, the President of CHAdeMO Association, said "in this year marking 10 years of CHAdeMO's in-market experience, it is a great honour and pleasure for me to personally witness the new generation coupler, which is the fruit of the close-knit collaboration by many dedicated members of CEC, CHAdeMO, and the international experts. I am very excited about this new plug that is small, light and easy to handle," and expressed his sincere gratitude for the hard work put into the products.
This next generation ultra high power charging protocol has been in development as a joint effort between the CHAdeMO Association and the Chinese Electricity Council since both parties signed an MoU on 28 August 2018 in Beijing, with the target to finalize the CHAdeMO-side protocol by the end of Q1, 2020.
Through over 10 occasions of continuous technical efforts and exchanges by the Chinese, Japanese and international experts, many challenges were overcome, including the improvement of mechanical strength and handling of the connector, optimisation of the adapter shape and communication protocol, and significant improvements on safety.
In China, in-market demonstration operations of 475kW/500A ultra high power chargers based on this new protocol have already started. In Japan, CHAdeMO high power charging work group is considering similar trial installation and operations this year.
In addition to enabling shorter and safer charging by the ultra fast charging technology, CHAdeMO Association hopes to further accelerate the deployment of the next generation charging infrastructure worldwide starting from China and Japan by ensuring compatibility with the current fast charging protocols both in China and Japan through this joint effort.
*using Boost Mode, rated for a short period of time
For further information, please contact: CHAdeMO Association