On 13 June, at EVS36 in Sacramento, California, CHAdeMO President Takafumi Anegawa addressed the global e-mobility community on why CHAdeMO has made a significant contribution to the development of fast charging technology.
Anegawa, the driving force behind the development of CHAdeMO, is himself an avid EV user, and started his talk with his own experience of having used a fast charger more than 1,000 times. 'Only twice have I been unable to recharge the battery, and one of them was because of a power cut,' he said with a smile.
After working as a nuclear engineer at TEPCO (Tokyo Electric Power Company) for more than 20 years, he switched his focus to EV-related work and founded the non-profit CHAdeMO Association in 2010.
'The CHAdeMO protocol is a non-exclusive, open licensed solution,' emphasised Anegawa, adding that 'in the past 16 years since the testing period, no fatal accidents have been reported'.
The main feature of CHAdeMO is safety: not only is it designed to avoid exposing users to unnecessary risks associated with high-voltage electricity when charging EVs, but its safety and interoperability are also guaranteed by the global certification system established by CHAdeMO.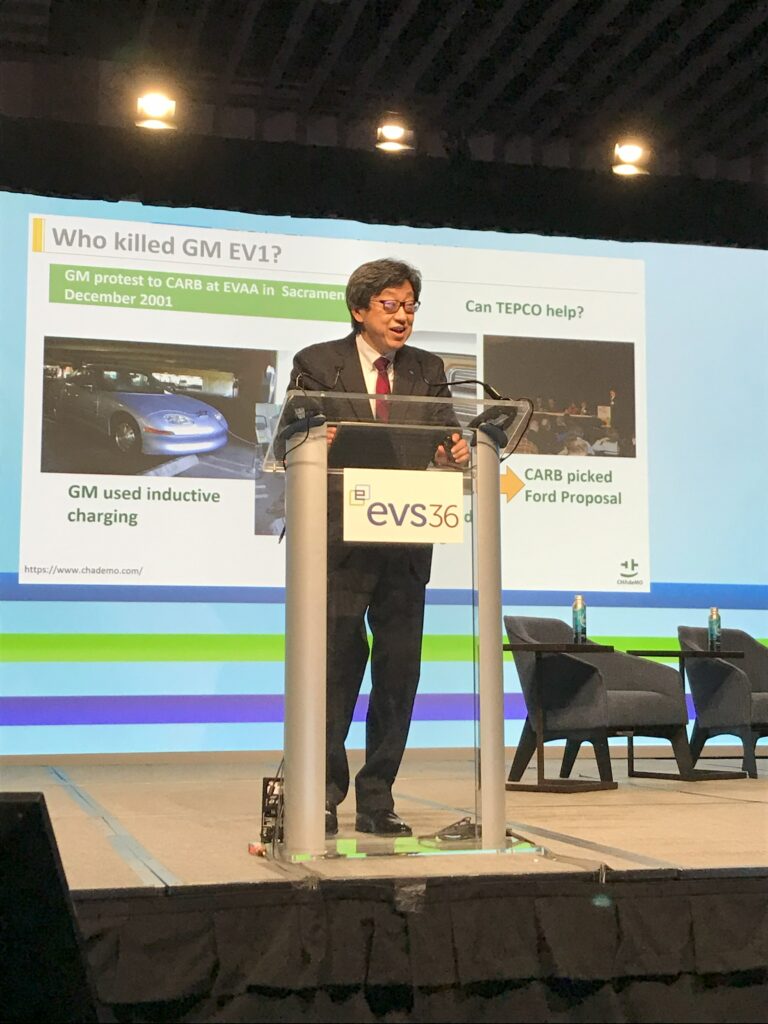 'The evolution of CHAdeMO never stops,' continued Anegawa, explaining that the CHAdeMO protocol is continuously reviewed and updated based on member requirements and market feedback. He cited the example of the bi-directional charging (V2X) function developed immediately after the Great East Japan Earthquake in 2011, which enabled the use of EV batteries as a back-up power source and provided time-critical assistance to the victims.
He further explained that the family of CHAdeMO protocols today supports not only passenger cars but also bicycles, two- and three-wheelers, and heavy-duty vehicles. For example, CHAdeMO launched ChaoJi in collaboration with China Electricity Council (CEC), with the aim of developing an internationally harmonised ultra-high power charging standard for trucks and buses.
To wrap up, Anegawa said that collaboration is important but competition is also necessary to drive innovation and concluded by saying 'CHAdeMO will never die, because we love EVs like you do.'