Following the announcement of the national network of 200+ multi-standard chargers in the Netherlands, the UK and Ireland will be the next one up to kick start a corridor project of multi-standard fast charging stations covering over 1,100 km along their major routes.
This trial project is jointly proposed by automakers that use different types of fast charging protocol: BMW, Nissan, Renault and Volkswagen and its cost of over seven million Euros is approved to receive subsidy by the EU in the framework of the Trans-European Transport Network project (TEN-T).
With a total of 74 charge stations each catering to EVs using CHAdeMO, Combo 2, and AC fast charging, all fast-chargeable EVs that are in the market by 2013 will be serviced: existing EVs by Mitsubishi, Nissan and Peugeot-Citroen that use CHAdeMO, as well as Daimler and Renault EVs that are equipped with AC fast charge, together with the upcoming Combo 2-equipped EVs that BMW and Volkswagen will release this year.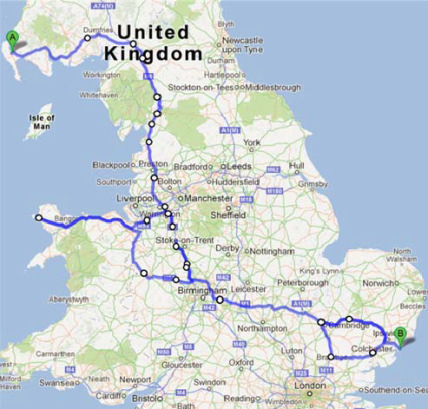 With the first set of chargers to be installed early 2014, all 74 chargers (68 in UK, 2 in Northern Ireland, 4 in Southern Ireland (Eire)) will be in place by the end of next year. According to the proposal, this project will aim to analyse "business feasibility and customer convenience, including cross-border interoperability solutions, customer charging behaviour and changes in mobility patterns" using the data collected all along. The automakers are joined by ESB, Newcastle University, UK Department for Transport, and Zero Carbon Futures to execute this project with the total budge of €7,358,000, 50% supported by EU's TEN-T funding scheme.
In the evaluation remark by TEN-T's Executive Agency and the European Commission, this proposal was commended to have "demonstrated its maturity as it is technically ready to start. It is expected to have positive impacts both in terms of policy-making and decision-making tools in connection with the introduction of new clean technologies along Priority Projects 13 and 26 and possibly in other EU member States".