India, Indonesia, South Africa and Thailand are officially designating CHAdeMO as their national standard. Singapore has also decided to embrace CHAdeMO as public charging standard to support the wider adoption of EVs in the country.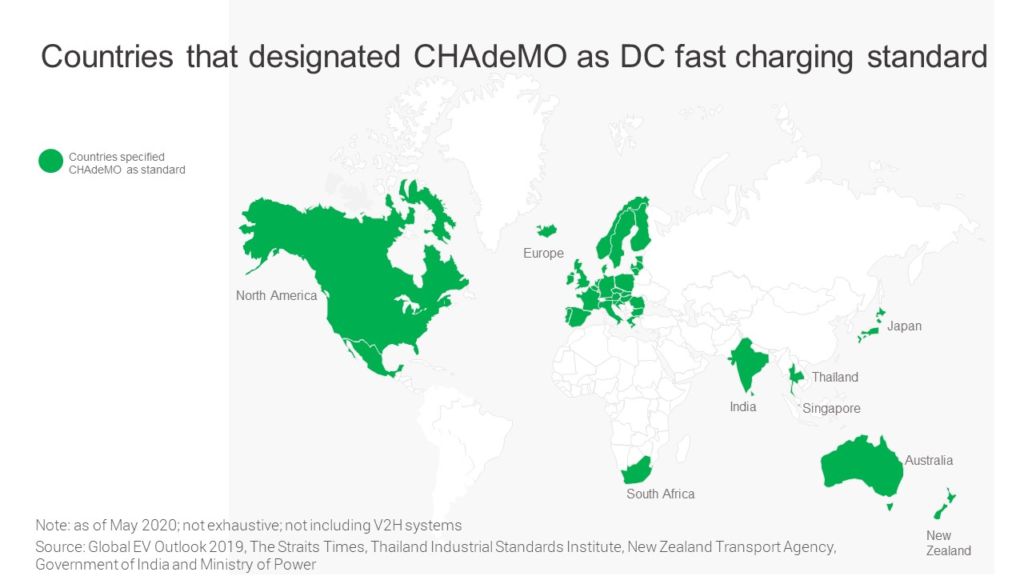 CHAdeMO has been providing support to initiatives in developing more energy efficient and sustainable transport systems and its efforts have contributed to the worldwide uptake of EVs and to the reduction of GHG emissions from the transport sector. As a result, CHAdeMO chargers are installed in 89 countries (to the best of our knowledge) serving over a million EV drivers around the globe.
The governments in various regions also acknowledge CHAdeMO. The Indonesian government regulation that entered in force on 4 August is the latest addition to the countries that have officially specified CHAdeMO as their mandated or recommended DC fast charging standards. Australia, India, New Zealand, Singapore, South Africa and Thailand are some of them. Needless to say, CHAdeMO is a well-established EN standard by CEN/CENELEC in Europe and an IEEE standard for the North American markets.
Singaporean Senior Minister of State for Transport Janil Puthucheary explained why Singapore has chosen CHAdeMO:
To pave the way for more electric vehicles to be imported,  […] Japanese Chademo fast-charging standard will be allowed here.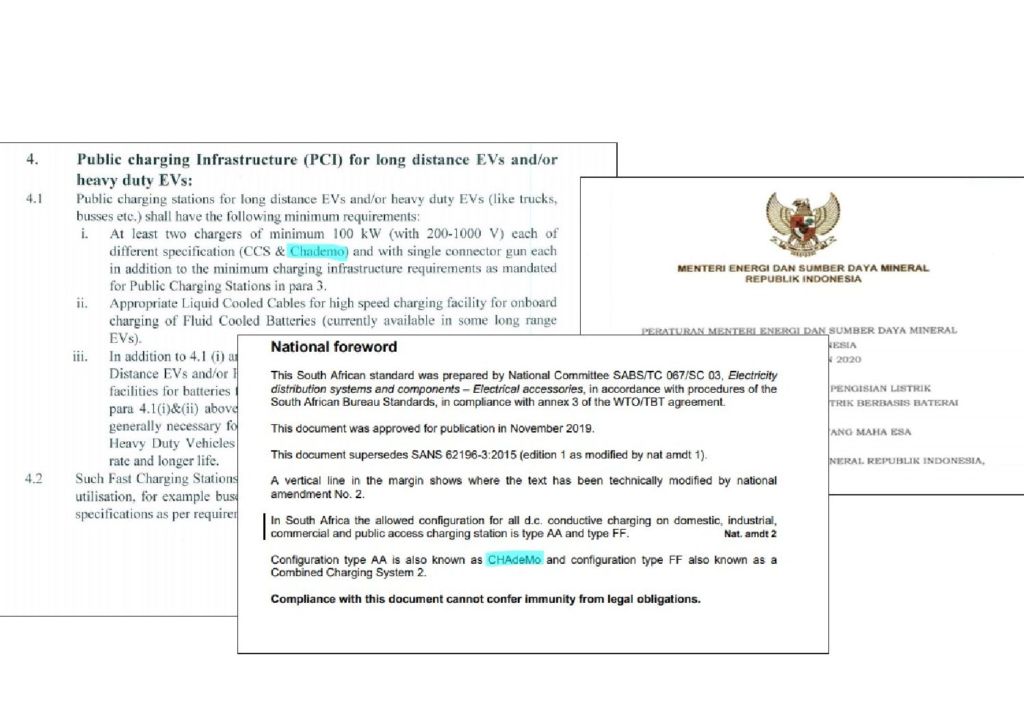 India, Indonesia and South Africa
Looking to push for electrification of both public and private transport system, Indian government adopted in 2018 a guideline in which CHAdeMO is set as a minimum requirement for public charging stations for long distance electric vehicles and / or heavy duty electric vehicles.
South Africa has amended its National Standards (SANS 62196-3:2015) in 2019 by adopting CHAdeMO within the national standards for DC chargers. In context, all DC charger systems in South Africa are now required to have both CHAdeMO and CCS2.
In Europe, while CCS is defined as the minimum requirement, CHAdeMO is largely available with 14 400 charging points to ensure smooth travel to half a million CHAdeMO drivers.
If you are interested in knowing more about CHAdeMO's global presence, please also check the article published on 19 May: https://www.chademo.com/chademo-surpassed-30k-charge-points/