CHAdeMO launched thematic webinar series for sharing experience, knowledge, and information. With trade shows and other physical events still looking far away, we wish to provide a forum for exchange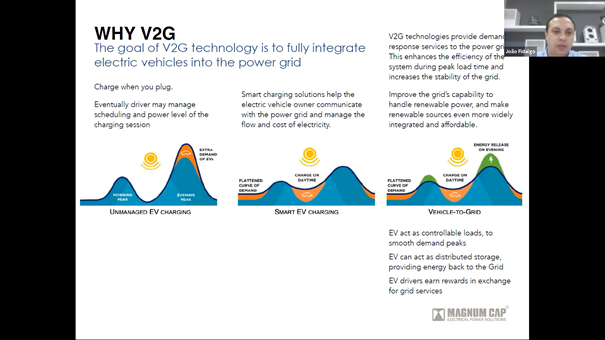 Joao Fidalgo, Magnum Cap
The 1st CHAdeMO webinar open to public focused on V2G, which is the natural choice for CHAdeMO given the fact that its protocol is the only enabler of bi-directional charging technology with mass-produced EVs and bi-directional chargers today. The webinar was organised on 14 April and attracted over 100 participants from Asia and Europe.
At the seminar, Mr Fidalgo of Magnum Cap and Ms Weiller of PRE shared their experience of V2G business as hardware providers, and Ms Wardle of Innovate UK presented the outcomes of, and lessons learnt from UK's V2G programme. Speakers also expressed their views and thoughts on what the viable models for commercialising V2G could be. All the presentations are made available below: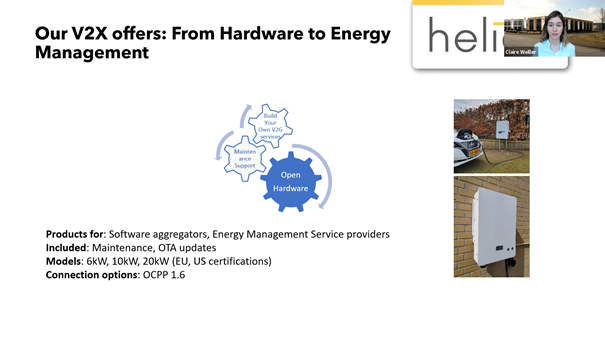 Claire Weiller, PRE
Speakers (all CHAdeMO Association organisations):
If you wish to speak at future CHAdeMO webinars, please contact us (info@chademo.eu)
Joao Fidalgo, Product manager, MAGNUM CAP (presentation here)
Claire Weiller, VP Business Development from PRE Power Developers, part of Heliox Group (presentation here)
Josey Wardle, Innovation Lead, V2G & EV Charging, Innovate UK (presentation here)
With trade shows and other physical events still looking some months away, CHAdeMO will continue thematic webinar series in hopes of staying in touch by providing a forum for exchange for our members as well as for the general public.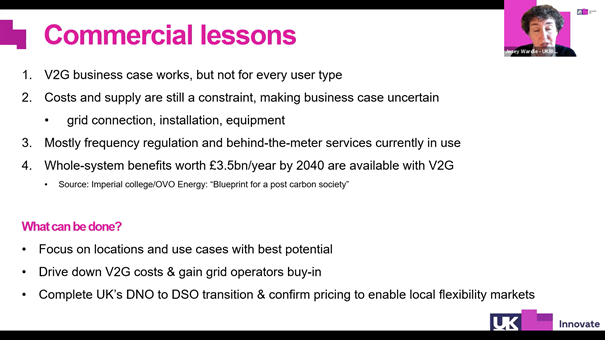 Josey Wardle, Innovate UK