With over 40 000 charge points in 92 countries, CHAdeMO remains one of the most popular networks of DC fast chargers on a global scale.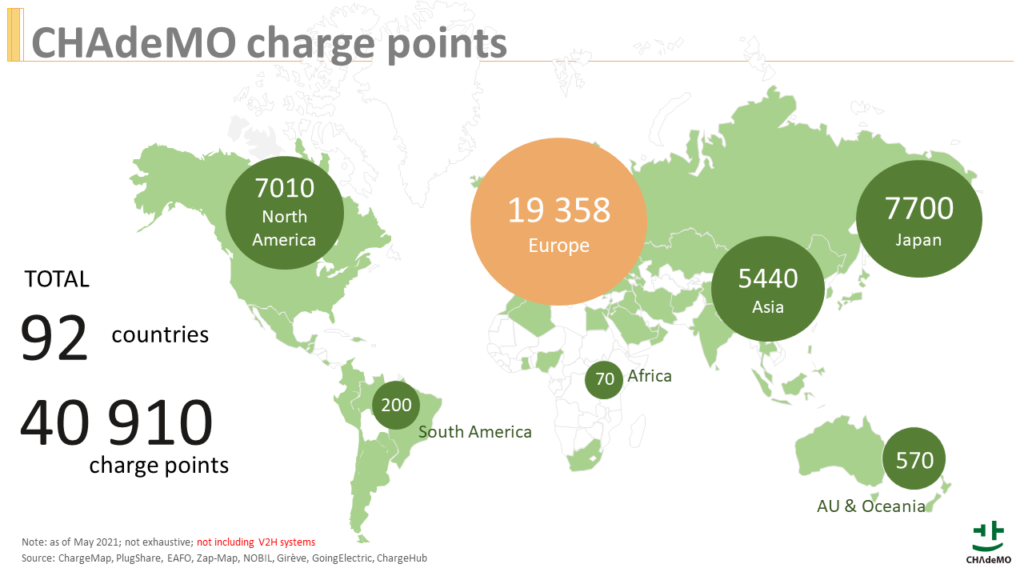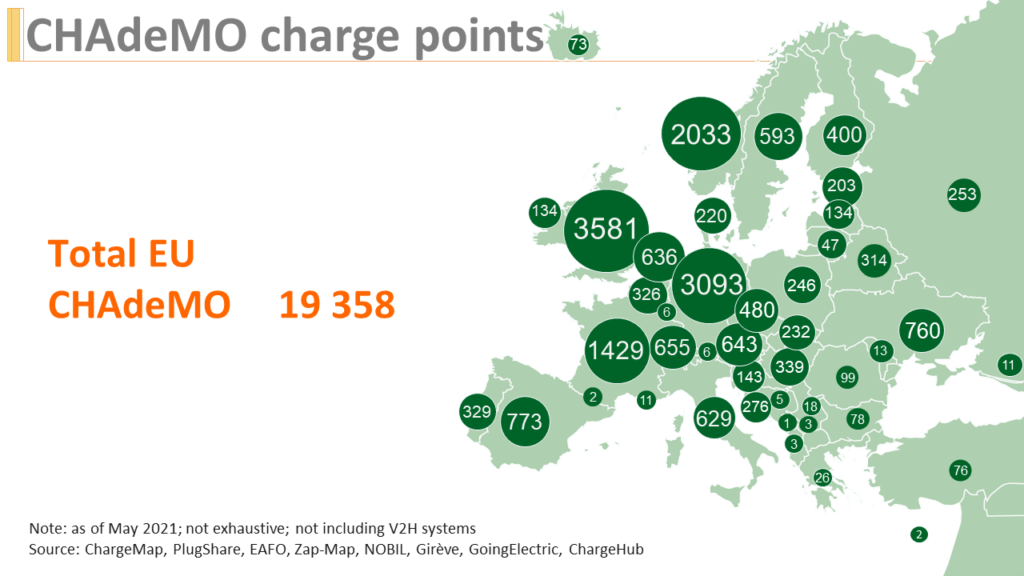 The UK and Germany are clear frontrunners of CHAdeMO charger deployment in Europe with over 3 000 charge points installed respectively, followed by an EV giant, Norway. The EV users in France are going through hard times due to the quasi-total shut-down of the Corri-Door high-power charger network along the French motorways since the beginning of 2020 (189 stations out of the project's 217 in total).
Surpassing 40 000 charge points in 92 countries, CHAdeMO successfully pursues its mission of bringing safe, affordable and interoperable charging experience to EV drivers in 2020 despite the economic fallout due to Covid-19. This coincides with the time that global plug-in vehicle sales grew to over 3,2 Million in 2020 (EV volumes, a CHAdeMO member organisation) despite the general vehicle sale downturn.
Europe remains home to the biggest number of CHAdeMO charge points offering 19 358 points, reflecting the strong EV sale performance, which can be attributed to a delicate policy leadership that mixed a tightening of key regulatory frameworks, such as CO2 emission reduction targets, with additional public support, such as the Green Recovery Fund, to protect EV sales from economic downturns.
The growth of EV market pushed for geographical expansion of CHAdeMO. In 2020, two new countries successfully installed their first CHAdeMO charger: Pakistan and Qatar. Pakistan has just unveiled its National Electric Vehicle Policy (EVP) last year by setting an ambitious target of replacing 30 per cent of passenger vehicles on the roads in Pakistan to electric vehicles by 2030.
Up 33% compare to last year, South American countries have also made significant progress towards the electrification of transport system. As demonstrated at our collaboration within the framework of UNEP program on e-mobility, we are committed to support countries in their efforts of making successful transition towards greener and sustainable society.
We look forward to witnessing more changes for the better around the world in the near future.