The City of Barcelona, for sure one of the front runners in electric mobility, has a particular focus for fast chargers: taxis and utility vehicles. A dozen multi-standard fast chargers in place in and around the city centre, their fast chargers deliver, on average, 4 to 5 charges per day to fast-chargeable electric taxis.
'Fast chargers are not very often used, hence there is no business case to justify the investments' is a common perception of fast chargers. Barcelona tackled this from asking the question the other way around: 'Who would use fast chargers?' and decided that electric taxis and utility vans should be their primary targets and that they should place "one fast charger every 6 minutes of driving," according to Angel Lopez, Director of the EV program of the City of Barcelona.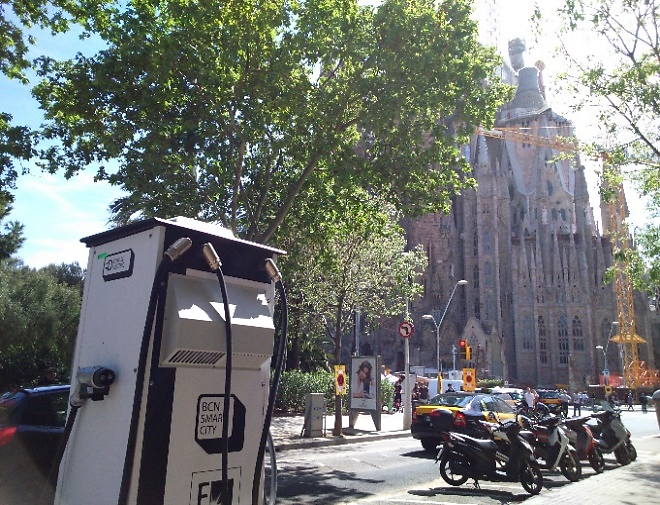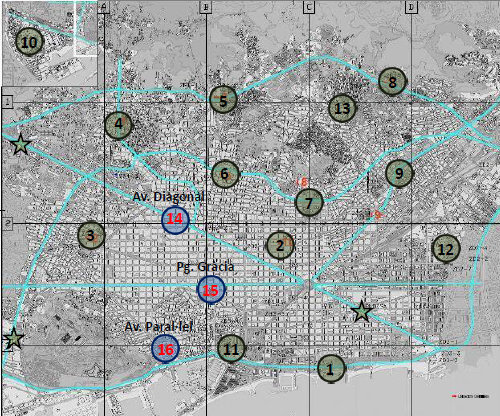 With help from IREC (Catalonia Institute for Energy Research), they took a grid approach: a fast charger every 2 km in the city centre, and every 6 km outside of the city.
Taxis and utility vehicles are given priority to street-side fast charging, whereas individuals are encouraged to use many normal chargers installed in the underground public parking.
13 BYD taxis and 8 Nissan taxis, both pure electric, roam streets of Barcelona as of April 2015, charging every day with the dozen multi-standard fast chargers all equipped with AC fast, CHAdeMO and Combo2 connectors, installed in and around the Catalonian capital.
"There was no question about the choice of chargers," recalls Lopez, "All of our fast chargers had to be multi-standard to service all the EVs available."
Since the installation of the first fast charger in December 2013, their chargers have fed around 1,800 kWh of electricity per month per charger. This breaks down to around 11kWh per charging session. On average, the AC fast (43kW) part delivered 6.5 sessions a day, and the DC (50kW) part, comprised of CHAdeMO and Combo 2 connectors, one a day. As one charge "session" is set to automatically terminate after 30 minutes in Barcelona, and BYD taxis (AC) typically need 2 "sessions" for their large battery, Lopez' team estimates that there are 4-5 EVs charging per day per fast charger, counting AC and DC connectors together. This usage frequency is quite promising compared to some projects that CHAdeMO Association has studied (0.54 charge session / day, across around 200 chargers circa 2013).
Among the most frequently used chargers was the one at SANTS Central Railways Station where there are also a bus terminal and a large-scale taxi stand. The City intends to add a second charger at this station, as well as start the expansion of the charger network to the Greater Metropolitan area, resulting in total 20 fast chargers by the end of this year.
Looking back on the process, the team describes the administrative process of getting installation permits from the authorities was the most difficult part, as the Metropolitan Area of Barcelona has 32 regional councils involved, which ended up taking 5 to 6 months per charger.
They have also observed some practical issues such as the placement of charging inlets on different types of EVs: some EVs have their inlet at the car front whereas others are on the (wrong) side of the body that the connector cable length may be insufficient when the charger is not installed close enough from the edge of the sidewalk.
Overcoming many of such challenges, Lopez feels confident that e-mobility is there to stay. Today over 720 citizens have registered as users for the City's charging infrastructure and the number has been increasing steadily. "In the near future, we would like to push the fast charging frontiers to the core routes to the neighbouring cities, such as Lleida or Girona," concludes Lopez.