The ALSACE region launched a call for expressions of interest to promote the development of electric mobility. The "Alsace Energy Corridor", a proposal from NISSAN, EDF, SODETREL and CORA was selected, and the first rapid charging terminal has just been inaugurated.
Already strongly engaged in the development of electric mobility, the Alsace region is offering the first 500 purchasers of electric vehicles a disbursement of 5,000 euros, over and above the existing 5,000-euro national rebate. Collaborative activities with automakers such as RENAULT have already been initiated, and thanks to the program, Alsace will find itself hailed as the first region in France to feature a complete network of recharging infrastructure. As Philippe RICHERT, President of the Alsace Regional Council states, "…this innovation will contribute to the deployment of the electric vehicle industry in Alsace and the territorial operations seen as a standard in the domain".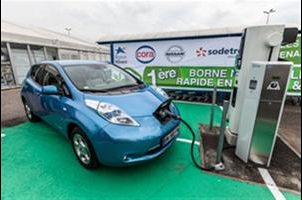 As part of the "Alsace Energy Corridor", the regional authorities have assigned NISSAN the task of equipping the territory with rapid-charging infrastructure. NISSAN, confident in the emergence of a network of private recharging locations, will install 400 rapid-charging terminals across Europe. The program is aimed at providing sustainable mobility access to the greatest number of people. 40 of the 400 spots are slated for installation in France, and six of these in Alsace.
The first terminal was installed in HAGUENAU at the CORA shopping center at the end of May. Five additional terminals will be implanted in parking facilities at five other shopping centers in the same chain. The charge spots are of the rapid-charging type; the battery can recharge to up to 80% of capacity in thirty minutes. All types of electric vehicles may be recharged at the spot, and during the first year of operation, recharging services will be available at no charge.
SODETREL, a subsidiary of the EDF Group has been given responsibility for operating and managing the terminals. Its piloting tools will allow supervision of use in real time, including access management.
And finally, the "Alsace Energy Corridor" is to become part of the Franc-German CROME cross-border project, whose aim is to show that vehicles travelling across the border can recharge in both of the two countries. The project unites energy companies, automobile manufacturers, and French and German electrical equipment makers; and regroups several ongoing testing projects in France and Germany.
Contact : Guillaume SELLAM 01 58 86 71 73