6.0kWModel name: LJV1671B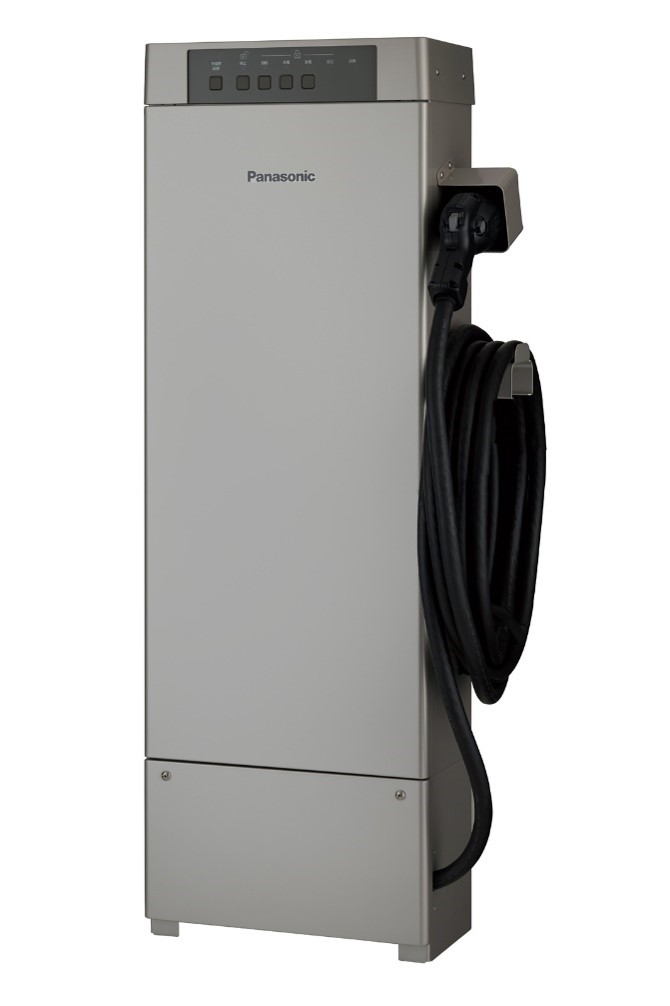 The V2H energy storage system "eneplat" realizes simultaneous recharge/discharge by an electric vehicle and storage batteries. This system allows more solar power to be effectively utilized in households, and aims to achieve self-sufficiency in electricity by reducing the amount of electricity sold from solar power generation and purchased from the grid.

Even in the event of a power failure, the stand-alone output of 100/200V 6kVA makes it possible to use 200V equipment such as an IH cooking heater, air conditioners, and other 200V appliances.

The V2H Stand is compact enough to be installed in a floor space smaller than that of one air conditioner outdoor unit. It is easy to install even in the limited space of a parking lot.
TECHNICAL DETAILS

Connector details : CHAdeMO
Rated Input/Output Power : 6.0kW when charging, 6.7kW when discharging (at charging/discharging connector end)
Rated Input/Output Voltage (when connected to the grid): 101 / 202V AC
Rated Output Voltage (when stand-alone): 101 ±6V AC / 202 ±12V AC
Communication Protocols: V2H Guideline Version 2.1.1


FEATURES

Compact size that can be installed in a floor space smaller than that of one outdoor air conditioner unit Charge/Discharge Cables can be set at both left and right sides, realizing easy access to various home layouts and electric vehicle charging points
About manufacturer
Company description

Development, manufacturing and sales of home appliances, air quality and air conditioning, food distribution, electrical equipment and devices, etc.


Markets covered

Japan

EV products

Vehicle chargers, EV charging outlets, V2H systems, etc.