Nissan and BMW announced last month their collaboration to advance electric and plug-in hybrid vehicle adoption in South Africa. They plan to jointly deploy multi-standard chargers (CHAdeMO, CCS Combo and Type 2) throughout the country by 2017. Currently there are about 10 CHAdeMO chargers in South Africa, and none in other countries of the African continent. By supplying charging electricity from renewable energy sources, the country can reduce its dependence on fossil fuels, while contributing to mitigate the global warming in Africa's top auto market.
EVs coming to South Africa
Today, automobile sector is accountable for about 60% of oil consumption and 30% of CO2 emissions in the country. South-African government is planning to decrease its total emissions by 42% by 2025. Shortly after COP17 in 2011, the country started an initiative to introduce EVs by offering an attractive incentive plan to expand the usage of EVs. Manufacturers who produced 5 000 electric vehicles annually in South Africa qualify for the incentive that the government reimburse them for 35% of their production costs over three years. Combining government commitment to e-mobility and auto-makers involvement, South Africa can reinforce its position on the continent.
Nissan LEAF was launched in South Africa in 2013, in collaboration with the Department of Environmental Affairs, as a part of a pilot project testing the feasibility of electric vehicles; BMW entered the market with its i3 and i8 this spring. The sales of EVs of both brands are still very small and the infrastructure deployment project by both auto-makers is expected to play a role in making them grow.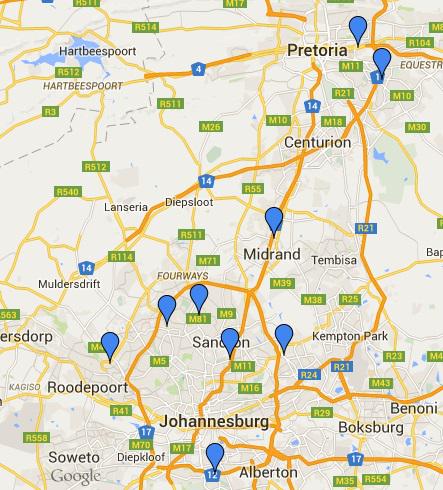 This solution to range anxiety is one of the key elements to realise South Africa's ambitious goal to reach 1.2 million EVs sold annually by 2020. Though there is no specific budget assigned for the project and the number of chargers to be deployed is still to be revealed, this first-of-a-kind initiative to establish a comprehensive EV fast charging network in Africa is very promising.