MiEV power BOX Exhibition Report
Date/Time:Friday, March 9, 2012, 16:30~17:15
Place:Mitsubishi Motors Corporation (5-33-8 Shiba, Mintato-ku, Tokyo)
On the latest business day marking a year since the Great East Japan Earthquake, Mitsubishi Motors Corporation (MMC) introduced MiEV power BOX which is a power feeder capable of supplying up to 1,500 watts of power by being plugged into the company's new-generation electric vehicle "i-MiEV" and "MINICAB-MiEV" EVs. CHAdeMO Association attended the exhibition along with participators including the press and the government. We would like to report it here.
<Background of the development>
MMC had been conducting studies to create new values to EVs as a "running battery". At the Great East Earthquake, electricity supply was quickly restored, and EVs were actively used at the disaster-stricken region. This showed EVs' new value. In addition, the convenience of EVs was confirmed by its capability to temporarily supply power to the region where recovery efforts have not progressed. These boosted the speed of the MiEV power BOX development, and led to the release about a year after the Great East Earthquake.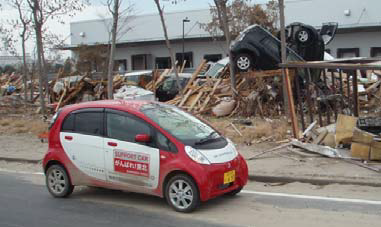 Provided by: Sendai City Council of Social Welfare
- Sendai city volunteer center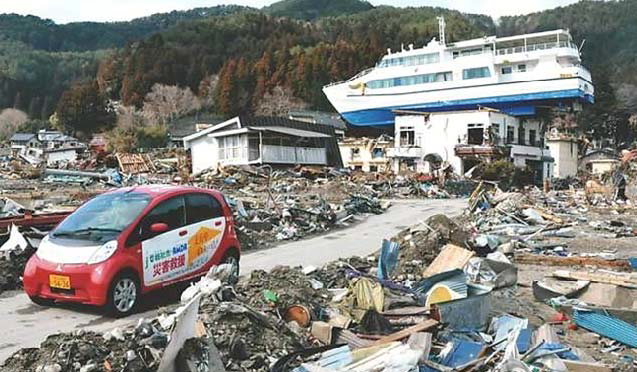 <A report in CHAdeMO Association 9th Infrastructure Workshop (extract)>
"EVs' capacity securing power supply allows us to use them in an emergency. Power supply to electrical products with low power consumption (100W or less) is available using "AC Power Supply" which is set as a dealer option. Although power supply to high power consumption (1,500W class) is not available at this time, we have worked toward the practical use. "
The exhibition was an announcement of the release of equipment enabling "power supply to high power consumption (1,500W class)" in an emergency in time of disaster, which had been worked on toward the practical use.
<Outline of MiEV power BOX>
The MiEV power Box is an equipment outputting AC100V from EV's on-board battery through electric vehicle inlet using an external device.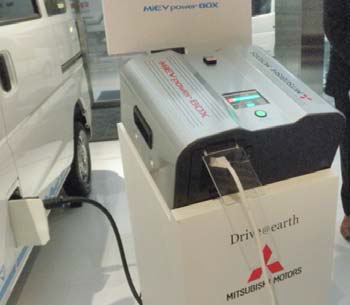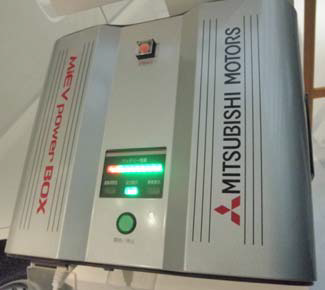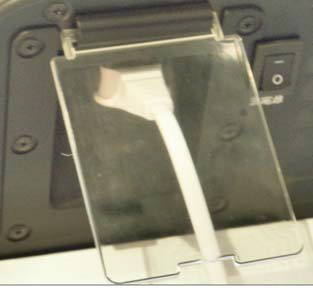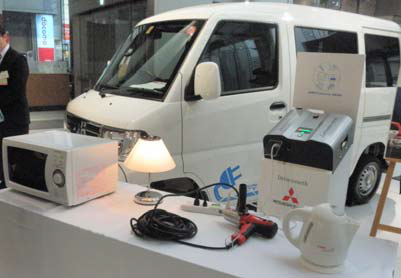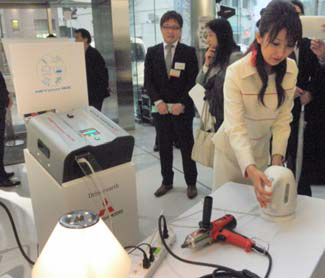 Discharge demonstration from MINICAB-MiEV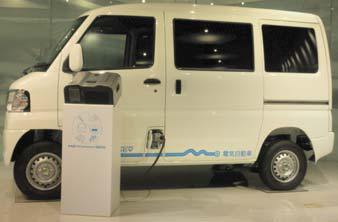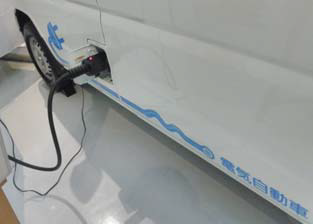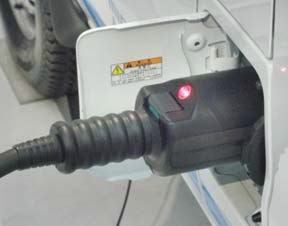 External dimensions 334×400×194(mm)
Weight 11.5kg(unit 9.5kg、cable2kg)
Output voltage AC100V±10V
Output terminal AC100V socket:one
Max. power output 1,500W(15A)
Frequency (modifiable) 50/60Hz
Operating temperature range -30~60℃
・ Useable until the remaining battery level reaches the remaining three scales (about 25%).
(CHAdeMO Protocol is used for discharging.)
<MiEV power BOX Exhibition>
At the exhibition, in addition to the demonstrations, there were displays such as panels showing use application (mobile shop, outdoor activities, leisure, and mobile electric source in an emergency) of MiEV power BOX and emergency goods.