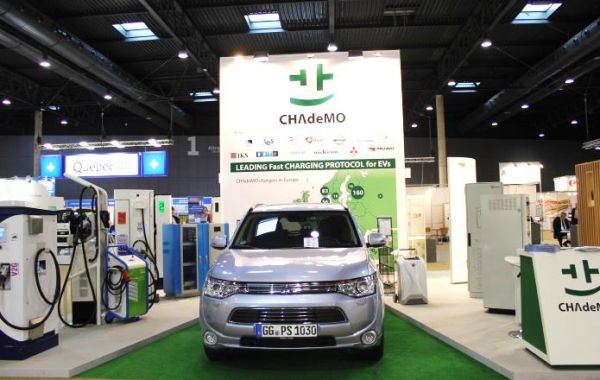 For the first time in its 50 years of history the Electric Vehicle Symposium (EVS) has come to Barcelona, Spain, as always offering world class debates and lectures as well as showcasing cutting edge e-mobility technologies from the entire globe. Being present at EVS means being part of the leading community of inventors, researchers and businesses that make e-mobility a reality. Naturally, the leading fast charging standard could not miss this event.
CHAdeMO Europe, joined by 10 of its international members participated in the exhibiton with its own stand as well as a presentation in the 'Project Dissemination' part of the congress, with its joint presence showing how much co-operation can bring to the e-mobility world.
Located along the main alley between BMW and Renault, the imposing 5m high structure with CHAdeMO logo towering above the booth was visible from every corner of the hall, including its entrance, making a strong statement about the CHAdeMO protocol and the companies that adhere to it. DBT, Efacec, Endesa, EVTEC, EVTRONIC, IES-Systems, IKS, Mitsubishi, Nichicon, Yazaki each presented their innovative products, stimulating visitors' curiosity and encouraging discussion on fast charging, multi-standard chargers, charger-trolleys, V2X, connectors and PHEVs. CHAdeMO Association representatives were also there to respond to questions regarding the protocol, the organization itself and the rapidly growing numbers of CHAdeMO chargers in Europe and the world, the progress illustrated by the bright green map boasting over 900 CHAdeMO stations on the continent. The booth was always full of visitors providing an opportunity for new business contacts to be forged and paving way for more CHAdeMO chargers installed.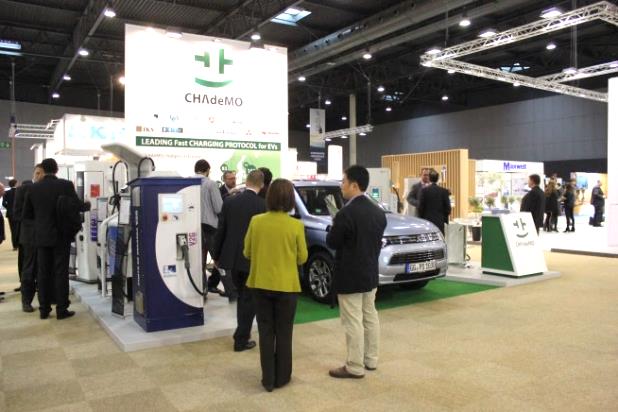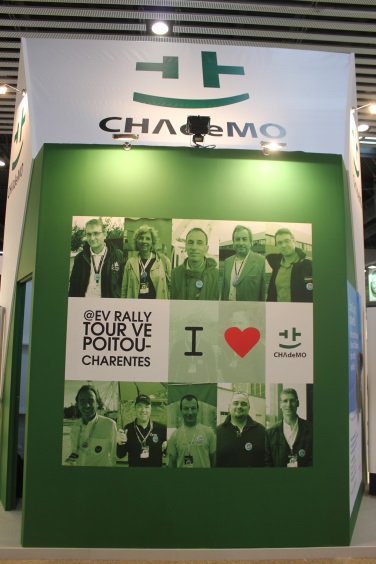 The international visitors and exhibitors of EVS27 have enthusiastically adopted the now famous CHAdeMO buttons with many taking handfuls for themselves and their colleagues with one person even commenting 'I have one at my booth and have no idea how it got there!' and the coffee machine integrated into one of the chargers being probably the most photographed exhibit in the hall.
Additionally, latest fast charging experiences and data from international projects were shared by CHAdeMO representatives Tomoko Blech (CHAdeMO Association Europe), Senan McGrath (ESB) and Narcis Vidal (Endesa) in a presentation during the 'Project Dissemination' part of the EVS27 congress, demonstrating the innovation potential of CHAdeMO protocol by sharing the latest CHAdeMO projects in the world and talking about V2X technology using CHAdeMO.
[sc_clients set="dbt, efacec, endesa, evtec, evtronic, ies, iks, mitsubishi, nichicon, yazaki"]