Hannover Messe, the biggest industry trade fair in the world is a standard feature on CHAdeMO Association's calendar. 2016 couldn't be any different. From 25 to 29 of April, accompanied by 6 of its members: Circontrol, e8Energy, Fujikura, IES Synergy, JAE and Nissan in a joint booth, the association showcased a whole family of CHAdeMO products.
The biggest presence came from 22-25kW chargers, with Circontrol, IES and e8Energy each bringing their semi-fast charging products. Second biggest presence belongs to connector producers with Fujikura and JAE showcasing their latest CHAdeMO plugs. Finally, the booth woulnd't be full without a CHAdeMO EV – this time it was Nissan Leaf.
The 54sqm booth attracted many visitors, giving an opportunity to the team to talk about the Association, high power charging and V2G.
All in all a very successful fair, with members and the Association coming together to promote fast charging, it was a 4th Hannover Messe for CHAdeMO Association and we are hoping to come back again in 2017.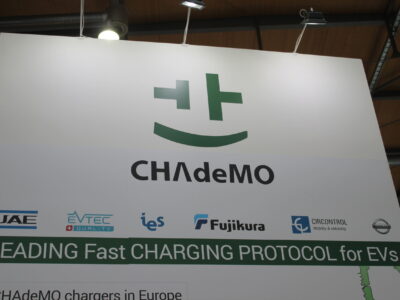 [sc_clients cols="6" effects_enabled="1" set="circontrol, e8Energy, fujikura, ies, jae, nissan"]