For the past three years, October has been the month of eCarTec for CHAdeMO Europe. In 2013 CHAdeMO has started a tradition that we gather our members and jointly present CHAdeMO-related products. This year is no different; the Association is taking an 80 sqm stand (404/ Hall A5) at Europe's biggest e-mobility show to be held this year at Messe München on 20-22 October. Yet again a record-breaking booth with the biggest surface ever with 8 co-exhibiting member companies, CHAdeMO shall showcase a variety of multi-standard chargers, a V2G (vehicle-to-grid) power conditioner, connectors, and a CHAdeMO-based BSM, carefully placed around 2 EVs.
Danish Lithium Balance will be presenting its bespoke Battery Management System. Australian Tritium, Japanese Nichicon and French Lafon and DBT will showcase their multi-standard chargers. A Nissan e-NV200 and the new Mitsubishi Outlander will be the EV stars of the show. Fujikura's easy-to-use one-push connector will complete the picture.
Posters on V2G and a multi-standard charger installation project (RCN) will adorn the booth, next to our signature European map with CHAdeMO charger numbers by country (2364 already!).
The principle of collaboration for the sake of promoting electric mobility will, as always, be the guiding theme of our presence at eCarTec.
If you are coming to eCarTec, do not hestitate to come by our stand, to find out about the latest CHAdeMO-related news on the continent and to get a glimpse of the latest CHAdeMO products. We have a number of free tickets to enter eCarTec, if you wish to benefit from one of them, just drop us an email at: info@chademo.eu
Last but not least, similarly to last year, we are collocating CHAdeMO Europe's Member Meeting #6 with eCarTec and inviting our members for a day of workshops, presentations and discussions on 20th October. Do not miss this opportunity for in-depth discussions with our experts! (for Members only)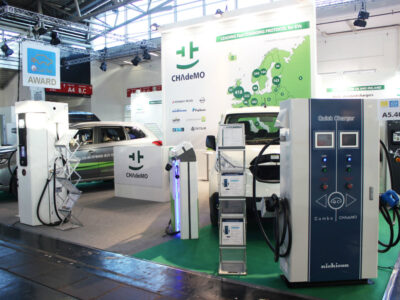 [sc_clients cols="4" effects_enabled="1" set="fujikura, lithium balance, nissan, lafon, nichicon, tritium, mitsubishi, dbt"]