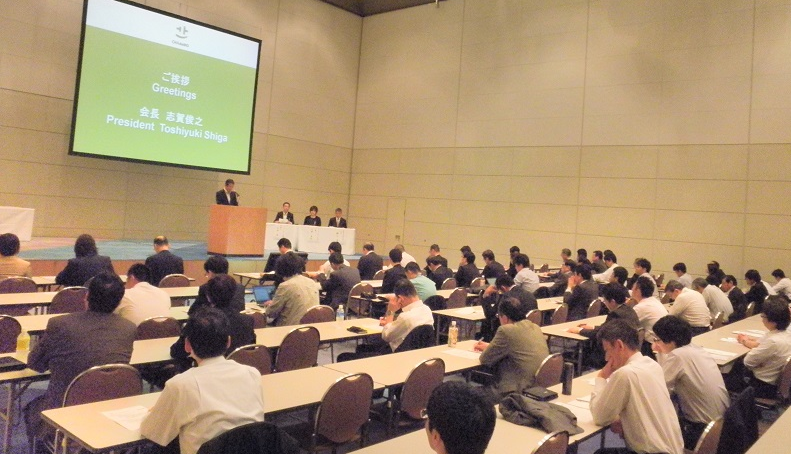 In this year's CHAdeMO General Assembly held on May 22nd in Tokyo, President of CHAdeMO Association Toshiyuki SHIGA has first reported to the participants gathered at Tokyo Big Sight that the number of CHAdeMO chargers installed globally had doubled to 2000 at the beginning of this year and was already over 2600 at the time of the Assembly.
Mr. SHIGA has then shared the pillars of CHAdeMO activities for Fiscal Year 2013 (April 2013 – March 2014): Firstly to achieve the global fast charging standard at IEC, following the JIS standard accreditation in 2012. Secondly, continued outreach to the global community from CHAdeMO Association. Thirdly, setting a high bar of quality for the new version of the technology and ensuring the interoperability when externalizing certification tests.
He has also emphasized that relieving anxiety for the current and future EV users is of the utmost importance and that the stakeholders needed to engage in constructive discussions for a feasible solution. Mr. SHIGA concluded by saying "We need to make sure that we have a good track record of CHAdeMO infrastructure deployment to reassure EV users" and asked for further collaboration from the members of the Association*. In the following presentation, Osamu Maruta from the secretariat of CHAdeMO Association has presented the timeline for setting up a new certification test process, which is expected to be outsourced to third-party certification bodies during this fiscal year.

Kiho Ohga from the Executive Board has then reported on the global deployment of CHAdeMO chargers, where she has said that CHAdeMO compatible EVs have reached 89,000 units worldwide and make up 80% of the total number of global passenger EVs. She has also presented the continuing deployment of CHAdeMO chargers outside of Japan, saying that in Europe only, there had been over 100 million Euros of investment made on the CHAdeMO infrastructure including both the public and the private sectors. Touching on the different standards becoming available in Europe, she has presented multi-standard chargers that are being released in the European market and emphasized their important role in infrastructure deployment servicing all EV users.
The General Assembly closed after having approved all agenda items**, and was followed by an active panel discussion of representatives from municipalities, EV aficionados and operators sharing their experiences and observations. Individual presentations continued at the exhibit area, which fueled networking opportunities in a friendly atmosphere with participants from different parts of Japan as well as from overseas.
Note: * Mr. SHIGA's speech as well as presentation materials and exhibit brochures by participants can be viewed on the CHAdeMO website at: http://www.chademo.com/wp/activities/
**CHAdeMO members can access the General Assembly agenda, summary, and the annual report from the members only page.