French drivers are to see an almost overnight doubling of fast chargers in their country thanks to a partnership between an auto-maker and a super-market chain. Commitment to Zero Emissions Mobility of Nissan and to sustainable development by Auchan brought the two companies together and resulted in a joint EV infrastructure venture. The two companies have signed a letter of intention committing to deploy 130 DC CHAdeMO- AC fast chargers in the car parks of the super-market chain in France.
This new network of chargers across France will enable longer EV inter-city travels throughout the entire country. The chargers, conveniently situated next to super-market mean the EV drivers will be able to do shopping, eat or drink coffee while waiting for their battery to fill up. According to EV news website Automobile-Propre, responding to the needs of EV drivers to give them true flexibility, most of the chargers will be accessible 24h, 7 days a week.
The chargers will be accessible to Nissan Drivers via Nissan Zero Emissions Charge Pass, RFID card based on the platform developed by Green Park Solutions (French company behind 'Kiwhi Pass', a card enabling interoperable EV charging in France). As dual standard charge points, the Auchan chargers will offer charging opportunity to Nissan LEAF and e-NV 200 drivers, but also to other fast chargable EVs such as Citroen C-ZERO and e-Berlingo, Peugeot I-ON and e-Partner, Renault Zoe or a Tesla Model S.
The initiative will make Auchan the biggest operator of fast chargers in France and one of the biggest in Europe. The supervision and maintenance of the chargers assuring their smooth working and a hassle free charging for the drivers will be provided by SODETREL, a subsidiary of French utility EDF, while the installation will be handled by Vinci Energies. The charging stations themselves will be delivered by French based DBT-CEV. The partners plan to start deploying the chargers from the 2nd quarter of this year.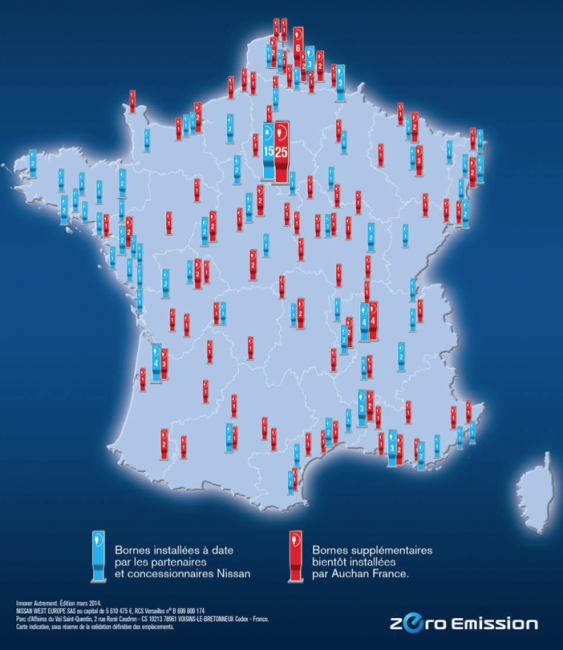 blue – chargers installed by Nissan partners and dealerships
red – chargers to be installed as part of Auchan-Nissan partnership