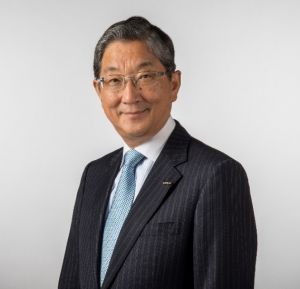 Toshiyuki Shiga
President of CHAdeMO Association
Toshiyuki Shiga is the Chairman of CHAdeMO association since September 2011.  Joined Nissan Motor Co., Ltd in 1976, Shiga also serve as a member of the Board of Directors of NML. Before assuming his current position, Shiga acted as Representative Director, Vice Chairman from 2013, as Chief Operating Officer from 2005 and as Senior Vice President in charge of the general overseas market (GOM) Sales & Marketing division from 2000 to 2005.
Shiga also serves as Chairman and CEO, Member of the Board of INCJ, Ltd. since June 2015.
– From Nissan homepage
Makoto Yoshida
Secretary General
General Manager at
Nissan Motor Corporation
Takafumi Anegawa
Representative Director
Director of EV promotion
President of TEPCO Research Institute  at
Tokyo Electric Power Company Holdings
Akio Kitami
Director
General Manager at
Toyota Motor Corporation
Tomoya Imazu
Director
General Manager at
Nissan Motor Corporation
Koji Abe
Director
General Manager at
Panasonic Corporation
Koichi Hiraoka
Director
Senior Manager at
Hitachi Ltd.
Mitsuo Nakamura
Director
General Manager at
SUBARU CORPORATION
Akira Kabasawa
Director
Senior Staff Enginneer at
Honda Motor Corporation
Shunsuke Kobiki
Director
General Manager at
Mitsubishi Motor Corporation
Yusuke Simizu
Auditor
Chief Alliance Coordinator at
Panasonic Corporation
Decision making process
At the annual General Assembly, resolutions are made on election of Executive Members, amendments  of the Articles of the Association, matters provided in the Bylaws, and other matters that the Board of Directors may deem necessary. The General Assembly takes place with the attendance of majority of members that have the right to vote. One voting right shall be granted to each of the Executive Members, Regular Members and Supporting Members at the General Assembly. The agenda items at the General Assembly shall be resolved by a majority vote of the members present, unless otherwise provided for in the Bylaws.