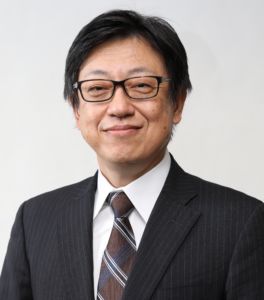 Takafumi Anegawa
President of CHAdeMO Association
First of all, I would like to express my sincere gratitude to all of you for your understanding and continuous support for activities of CHAdeMO Association.
Since its establishment in 2010, CHAdeMO Association has continued efforts to support the spread of Electric vehicles and charging infrastructure in the world. This year, CHAdeMO has reached the 10 year anniversary, and it is an honer for me to be inaugurated as a president in the year of that milestone. I would like to thank the former President Mr. Shiga for driving the activities of the Association for eight years from 2011.
As regulations on gasoline and diesel vehicles in Europe and China have become increasingly severe, and electric mobility is becoming a global megatrend, we are developing new technology expansion, such as high-power charging, ChaoJi,  unified standard between Japan and China, low-power charging standard for motorcycles and small vehicles, and deployment of V2X technology around the world.
By steadily promoting these activities, we will work to achieve the two priority issues of 2019 action plan, "Extend Functionality" and "Geographical Expansion". We would highly appreciate your continuous support.
Makoto Dave Yoshida
Secretary General
General Manager at
Nissan Motor Corporation
Takafumi Anegawa
Representative Director
President of TEPCO Research Institute  at
Tokyo Electric Power Company Holdings
Hidetoshi Kusumi
Project Manager
Charging System Development Dept.
at Toyota Motor Corporation
Yoshiyuki Tanaka
Director
Manager
EV Operations Dept. at
Nissan Motor Corporation
Koji Abe
Director
General Manager at
Panasonic Corporation
Koichi Hiraoka
Director
Senior Manager at
Hitachi Ltd.
Atsushi Namba
Director
General Manager
Electrified Power Unit Design Dept. at
SUBARU CORPORATION
Katsutohi Nosaki
Director
Senior Staff Engineer
Energy Business Dept. at
Honda Motor Co., Ltd.
Kimio Yatabe
Director
General Manager
EV Solution Dept. at
Mitsubishi Motors Corporation
Yusuke Simizu
Auditor
Chief Alliance Coordinator at
Panasonic Corporation
Decision making process
At the annual General Assembly, resolutions are made on the election of Executive Members, the amendments  of the Articles of the Association, the elements provided in the Bylaws, and other matters that the Board of Directors may deem necessary. The General Assembly takes place with the attendance of majority of members that have the right to vote. Each of the Executive Members, Regular Members and Suppporting Members, is given the right to cast their vote. The agenda items at the General Assembly shall be resolved by a majority vote of the members present, unless otherwise provided for in the Bylaws.