Certification test
Purpose
The purpose of CHAdeMO certification system is to:
Confirm that the charger complies with CHAdeMO specification.
Secure interoperability between charge and vehicle.
The CHAdeMO logo is the proof that the charger has passed CHAdeMO certification test. Certified chargers are listed in our website.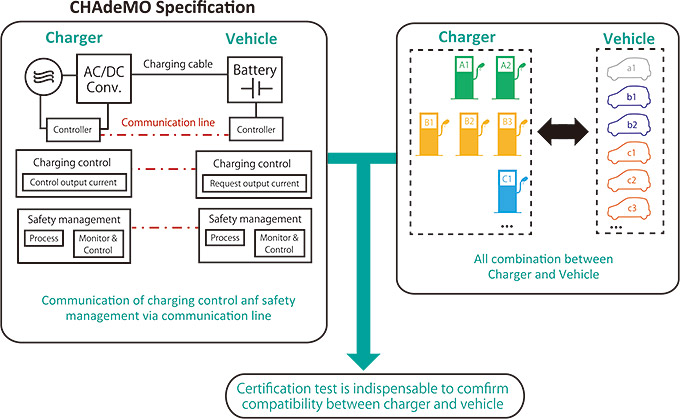 Fig1. Concept of certification test

Achievement
Certification system started in 2010.
Certification items consist of basic circuit requirement, control sequence and communication protocol.
The number of certified models has reached 100 and it is the only certification system for fast charger in the world.

Procedure to obtain CHAdeMO certificate
There are five steps for charger manufacturer to obtain CHAdeMO certificate.
Step1: Application for CHAdeMO regular member
Apply for CHAdeMO regular member and receive CHAdeMO specification document.
Step2: Product development
Develop product based on CHAdeMO specification.
Step3: Submission of application form
After product development completed, send an application form to have a certification test.
Step4: Certification test
Certification test is conducted at TEPCO R&D Center in Japan using certification machine. Certification machine can emulate EV and evaluate charger's performance based on the requirement of CHAdeMO specification.
Step5: Receive Certificate
If the product passes the test, applicant will receive CHAdeMO certificate.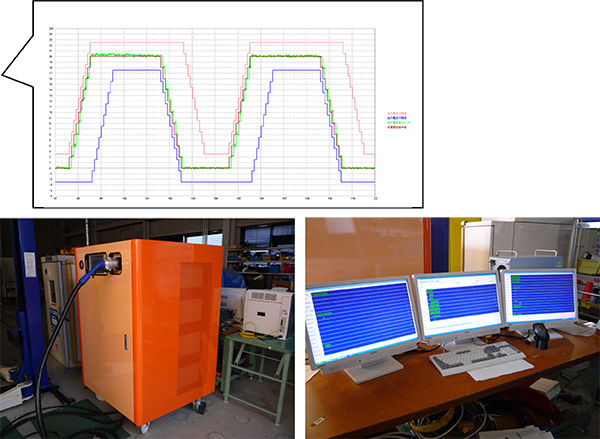 Fig. 2 Certification machine

Certification body
TEPCO is the only certification body currently.
It is planned to transfer certification work to third party.
Applicant pays all cost related to certification test.