CHAdeMO technological strengths
Safety First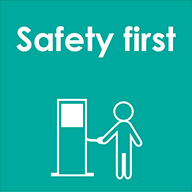 Users' safety is paramount. CHAdeMO has mandated strict safety principles to guarantee a safe operation.
Communication is duplicated through the exclusive pilot signals and the data signals via CAN communication. These two communication routes can prevent false operation by defining action by AND condition, and stop order by OR condition.
The interlocking hardware is structured so that the coupler is never disconnected from the inlet while charging, and no active electricity comes to the exposed terminal parts when disconnected.
Electricity leakage is prevented through its unique electrical circuit design and the insulation checking procedure.