CHAdeMO technological strengths
Optimal output power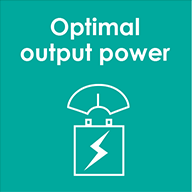 One of the key trade-offs when installing a fast charger is that the optimal power output depends on two factors: the cost of delivering the required power at the infrastructure side, and the charging time which is also dependent on the battery performance and state of the technology.
Bringing the required power to the charger includes both the cost of the hardware as well as the cost of connecting to the grid at the required level. The majority of utility companies around the world supported CHAdeMO's view in eventually setting the most appropriate power level at 50KW.
In the future, as the price of the power units continues to decrease and the performance of the battery continues to improve, faster and higher power chargers be eventually necessary. In fact, the geometry of CHAdeMO connector is designed to allow for 200A, which means it can almost double its power level.
On the other hand, the installation of 20KW units require much less output power and can be an ideal charging solution in certain urban or commercial areas where access to higher power level is not readily available. This flexibility on both ends of the charging power spectrum demonstrates the clear competitive potential of the CHAdeMO in the market.