CHAdeMO technological strengths
Future-proof flexibility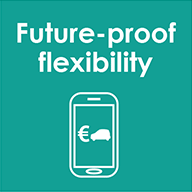 The CHAdeMO protocol specifies the charging process between EVs and chargers leaving everything else open to service providers' choice. The baseline is that first and foremost charging is safe and interoperable. The scope of standardization is limited to the strict minimum and all other optional functions are left open to meet any specific local requirements. This flexibility stimulates the innovative mind of investors, both on the vehicle and infrastructure sides, who recognize the heightened expectation in the market for what EV can bring about. .
In discussing the extent of standardization of the CHAdeMO protocol, the guiding principle is that IT services that drivers look for, such as navigation,  telematics system, or communication of other  data are similar between EVs and internal combustion engine vehicles.
It was a natural choice to leave the communication protocols for such added value services unspecified, and to let customers benefit from the technology that is broadly used across all vehicle types, and not just for EVs. Considering the life style of many EV drivers already making use of smart phones, cloud computing, and evolving ICT technology as a whole, where progress is taking place day to day. CHAdeMO remains with a bare minimum.
This flexibility CHAdeMO offers is greatly appreciated by operators of charging networks that use different user identification and payment systems ranging from credit card payments, RFID method, to mobile phone payments. CHAdeMO fully embraces this market diversity and offers complete flexibility to service operators.