CHAdeMO technological strengths
Future-proof flexibility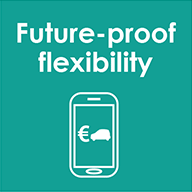 The CHAdeMO protocol is simply addressing the charging process with compatible EVs and leaves everything else open to service providers. The baseline is to limit the scope of standardization to the strict minimum to make sure that first and foremost charging is safe and interoperable. All other optional functions are left open to meet any specific local requirement. Furthermore, recognizing the heightened expectation for what EV can bring about, this flexibility is stimulating the innovative mind of investors both on the vehicle and infrastructure side.
In discussing the extent of standardization of CHAdeMO protocol, the guiding principle should lie in the fact that IT service such as navigation system or communication of other type of data would be similar between Battery Electric Vehicles and Internal Combustion Engine vehicles.
Therefore it is natural to assume that the final chosen technology for communication could be the one equally used across all vehicle applications, not just for Battery EVs. The latest trend indicates that the mainstream goes along with wireless "telematics."
This will keep the current CHAdeMO system remain highly flexible and cost efficient.
Charging technologies altogether will continue to evolve and future systems based around inductive charging for example will rely on wireless communication. Therefore it could also be felt that wireless communication which perfectly goes along with the CHAdeMO protocol offers the best platform in the long perspective.
The flexibility that CHAdeMO offers in terms of optional features is greatly appreciated by operators of charging networks which are using different user identification and payment systems in different locations. Some prefer credit card payment, others RFID method or mobile phone payment. CHAdeMO fully embraces this market diversity and offers complete flexibility to investors.