CHAdeMO technological strengths
Compatibility with Smart Grid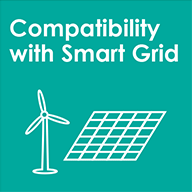 The mass deployment of Electric Vehicles very often goes hand in hand with an increasing share of renewable energy. The grid and the charging technology which connect the two worlds need to be ready to tackle this opportunity.
To make sure that this coordinated approach does not result in additional strain on the grid, smart grid initiatives are here to ensure some level of communication and intelligence is implemented and allow the charging to stop when it pushes demand beyond certain cost levels or supply capacity.
In this perspective, CHAdeMO is ready for Vehicle-to-Home systems and allows bi-directional charging, capable of addressing efficiently the future needs of the market.
Battery Electric Vehicles have large size state of the art batteries that will be an efficient asset for Vehicle to Grid (V2G) or Vehicle to Home (V2H) applications. Taking the example of V2H, Nissan and Mitsubishi have announced the early availability of their V2H systems which operates using the CHAdeMO protocol and connector. This V2H system can be connected with the roof top Photo Voltaic Panel and communicate with it for the optimal charge and discharge pattern. This comes as further clear evidence that CHAdeMO is already addressing the needs of both today's as well as tomorrow's market.