Role of fast charging
Fast charging extends driving freedom
Fast charger is the key for electro mobility; it allows opportunity charging in different public places and reassures drivers to drive longer distance. Fast charger brings actual battery performance that EV has.

Optimal mixture of charging methods
EV charging is usually charged with small onboard charger at home or office, called "normal charging", and fast charger has a role to supplement normal charging
Mid distance: Opportunity charging
Fast charging as well as semi-fast charging (20kW) is ideal for opportunity charging in mid distance. Drivers could enjoy the opportunity charging with fast chargers installed in super market, drug store, shopping mall, restaurant parking lot.
Long distance: Pathway charging
Fast charging is the necessary infrastructure for long distance inter-city drive. Drivers can charge with fast chargers installed along major roads, and highway service area.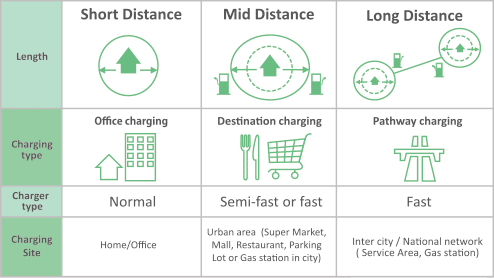 Demonstration of Pathway Charging and how CHAdeMO assured driving EVs in longer distance

Fast charging extends driving freedom of electric vehicle
With CHAdeMO fast chargers, electric vehicle gains more driving versatility to become your best friend.
Fast charger installation doubled the highway usage. Only 20% of all the registered EV drivers between the two cities drove the highway.
Thanks to CHAdeMO fast chargers, EV drivers using the highway have doubled.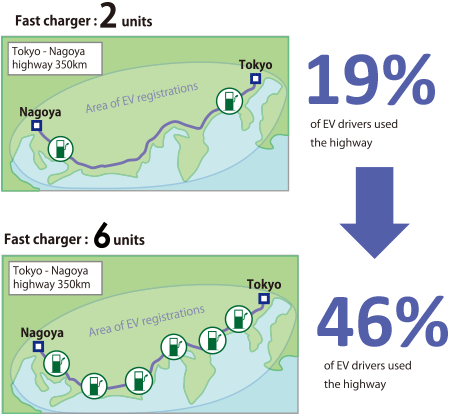 ・Location: Highway between Tokyo and Nagoya, Japan
・Number of fast chargers: It has increased from original 2 installations to 7 installations
The result
・Number of highway experienced users have increased 2,2 times more, from 19 percent to 46 percent